Van Mildert College Boat Club
Jump to navigation
Jump to search
Van Mildert Boat Club (VMBC) is a student-run rowing club for members of the Van Mildert College, Durham University, England. It is open to all undergraduate and postgraduate members of the College. Founded in 1965, the club's home water is the River Wear, which is also used by another 11 Durham University Colleges, Durham Amateur Rowing Club and Durham Univeristy Boat Club. All Durham University College Boat Clubs are represented by the umbrella organisation Durham College Rowing (DCR). The colours of the club are yellow and black. Funding is provided by membership fees from Club Members, Van Mildert JCR, Sponsors and Alumni, allowing VMBC to maintain a healthy fleet of boats - from training boats to racing-level sculling and sweep boats. An Executive Committee is responsible for the running of the club and the members of this committee are elected annually.

1965

Simon Scott, formerly Kings School, Worcester, was a founding member of the College during its initial year in Parsons Field House in 1965-6. He arrived at Van Mildert with an impressive background in school rowing and dedicated his enthusiasms to founding VMBC. Within a few weeks of the College opening it had acquired a Boat House, a tub pair and a sufficient fleet of boats to enable the College to compete on the river from the word go. Simon's boast was that he had persuaded or coerced every member of the College's first year into having at least one excursion on the river, with the year culminating in victory in the MacFarlane-Grieve Challenge Trophy for first time rowers – a result entirely due to his tireless commitment as a coach and boat maintenance expert. As the club grew Simon was instrumental in persuading the JCR to purchase the College's first 'fine' boat, built by Sims, which opened up more competitive prospects and paved the way for the College's most successful crew in the early days, winning Admirals, the Centenary Ferrymasters' Challenge Cup on the Tyne and several 'Senior' events on the regatta circuit. In his school days Simon had been a keen Scout, from which he gained an amazing practical ability to fix just about anything. In 2004 he was diagnosed with a skin cancer condition but typically maintained an active and busy life. He was regularly seen on the towpath at regatta events in the Worcester region and was delighted to meet up with current members of VMBC who were competing at Worcester regatta in 2007.

1974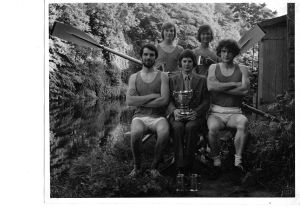 Durham Regatta Mayors Plate winners in 1974 - Pete Bennett, Chris Guy, C. Robinson, Rob Rowland and John Lewis


1978

In 1978 VMBC managed to attend The Head of The River Race for the first time in a joint crew with Grey College, but in 1979 the club managed to get a full Mildert crew together, for possibly the first time (although records from earlier years were a bit patchy and there may have been an earlier appearance). An Eight was borrowed from Monkton Coombe School - it was the first time that some of the crew had even been in an Eight, or rowed over that distance! A brisk head wind made for choppy conditions and twenty boats perished beneath the waves that year, but Mildert ploughed on regardless, amassing some six inches of water in the bottom of the boat, and finished in a credible 131st position, the best known result to date for the club, surpassing even the recent 2010 result.


2010

The 'Van Mildert' was believed to be the first fine racing boat owned by the college. By 2005 the boat was no longer in a rowable condition and was auctioned for DUCK (Durham University Charities Kommittee) in order to raise money for charity. It was split into quarters following the auction, with the bow decorating a wall outside of the college bar where it can be seen today. In June 2012 it was decided that the latest purchased boat, an Intersport 4+ bought with contributions from the JCR, would be named 'Van Mildert'.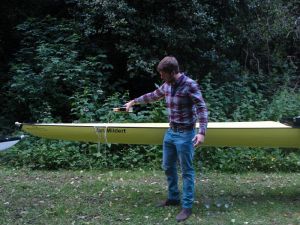 The new boat 'Van Mildert' being named in 2012 (although purchased in 2010)

On the 30th January 2011 at Tyne United RC and after a speech by the then current President, Jarris, the then Master, Prof. Paddy O'Meara christened the boat the "Trust in Mildert". The name was chosen by the Van Mildert Trust, the main funder of the purchase. The VIII at the time would've been around £18,000 off the shelf. The club was able to meet this cost with the generous donation of £15,000 from the Van Mildert Trust, Boat Club funds and a contribution from our Ernst & Young's sponsorship.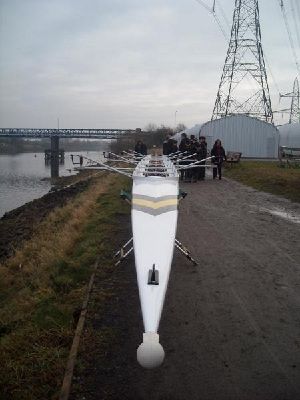 The new boat 'Trust in Mildert' being named in 2011 on the Tyne

December 2021

In December 2021, the Boathouse was destroyed as a result of an arson attack.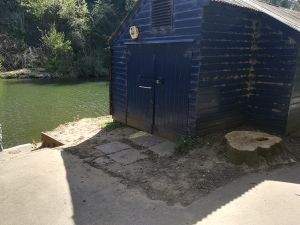 The wooden boathouse destroyed in a fire of December 2021 - Photo courtesy of Ray Dominy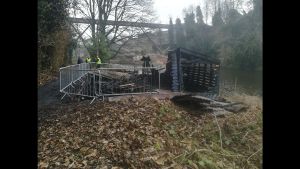 The aftermath of the fire of December 2021 - Photo courtesy of Ray Dominy