Philip Pearson
Jump to navigation
Jump to search
Philip Pearson was a well known professional sculler from Blyth Rowing Club. The Blyth club had two consistent rowing families, the Pearsons and the Allens. Philip Pearson was a professional sculler in the early 1900s and his sons were Robert (Bob), Thomas (Tom), Philip (Pip), Douglas and Jim. Jim's son (also Philip) was a significant sculler for the club in the 1970s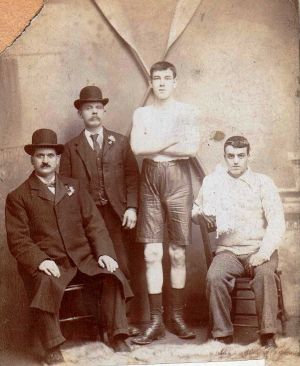 Pictured in 1900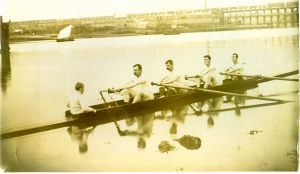 Blyth RC International crew 1901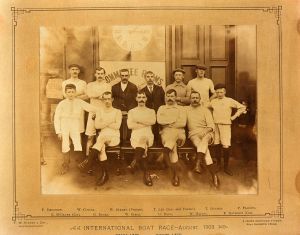 Blyth RC International crew 1903

The above photograph is of the International crew from Blyth in 1903. Philip Pearson is pictured far right at the back.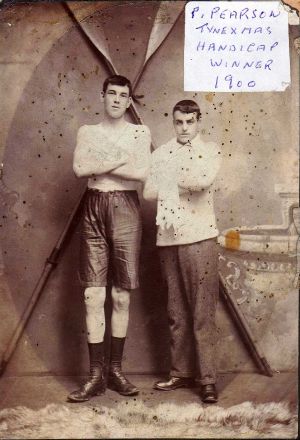 Philip Pearson, Tyne Christmas Handicap winner 1900

Philip was listed as a competitor in the short lived Allhusen RC Easter Handicap on the Tyne

Allhusen Easter Handicap 1907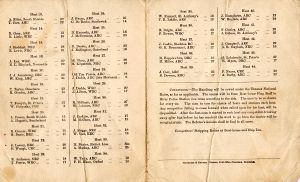 Allhusen Easter Handicap 1907

In the 1920/30's Blyth had an excellent period in 4-oared rowing and a Blyth crew invariably held the scratch mark in the area. Notable members were Jack Allan, Robert (Bob) Pearson, Jimmy Bell, Jack Fulcher, Walter Allen, Billy Hickey and Philip Pearson.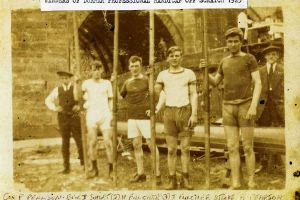 Winners Durham Regatta Professional Fours

Professional rowing and the sums involved were impressive. There were numerous Open Handicaps and Challenge Races for side stakes, but the promoters of the Tyne Christmas Sculling Handicap - won by Philip Pearson, aged 19 - put up a prize of £100. In current terms (2020 AD), was worth £10,000! At 6 feet 3 inches, Philip would have been something of a giant compared to his competitors. Philip, in 1900, was one of three Blyth scullers to win the Xmas Handicap, the others being Curly Lavery in 1909 and G. Lewis in 1913.