Chester-le-Street Amateur Rowing Club
Jump to navigation
Jump to search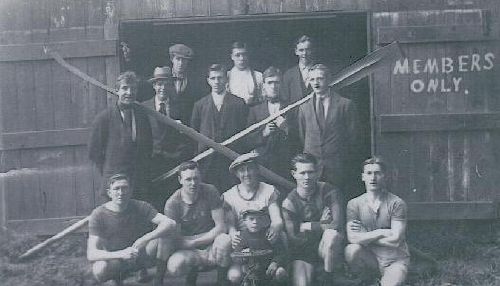 Professional rowing at Chester-le-Street on the River Wear started in the 1870s with professionals earning their money in challenge matches against rowers from other areas. The Club also started out in 1888 as a professional one, later changing its status to Amateur.

Professional racing often attracted huge crowds and massive amounts of money changed hands. Occasionally, 'ringers' were introduced to build up the betting by losing a couple of races, then coming good later when pitted against local favourites. This often meant a quick exit with winnings stuffed in pocket to avoid a lynching by a partisan crowd.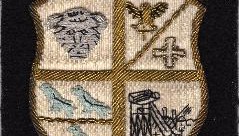 The rowing club initially rowed out of a boathouse in the park; the access to the river was by a set of steps now overgrown just above the wear. In the 1930's this boathouse burnt down and was replaced with a new timber structure that carried an advert for " Dainty Dinah Toffee", a product of George Horner's Chester-le-Street toffee factory. For many decades the Club was able to row some distance around sharp bends and even eights could navigate them with care to continue upstream to allow rowing of around 1,500 metres. Unfortunately, over time, he river has silted up and banks have given way to restrict rowing to a much shorter stretch of water.

The rowing club was very strong in the 1950s and won many regattas throughout the area. Sadly as the members aged the demand for rowing saw a downturn and the club struggled, then closed for a few years. The boats rotted away hung on the sides of the building and when Bob Heywood resurrected the club in the 1980s there was not a lot to row in. A kind sponsor donated three boats and the club managed to hang on by its teeth to a time when the numbers started to increase again and new blood came into the club to lay the foundations of the club seen today. A significant rower in modern times was Victoria Bryant who became a world champion when she rowed in the under-23 ladies eight.


28th July 1877
Bell's Life reported:
BOAT HANDICAP ON THE RIVER WEAR AT CHESTER-LE-STREET
A handicap, rowed in open boats, took place on Tuesday and Wednesday over the half-mile course on the river Wear, from the Rifle Butts to the Ferry Landing at Chester-le-Street, and drew together a large attendance of spectators each night, the weather on each occasion being most enjoyable. The following was the result of the rowing:
Heat 1: E. Reece (Durham) 10 lengths beat W. Young (Durham) 81/2 l
Heat 2: Nil
Heat 3: J. Hall (Sunderland) 5l rowed over. R, Armstrong (Chester-le-St) 9 1/2 l absent
Heat 4: D, Shields (Fatfield) 1l beat J, Forster (Newcastle) 3l
Heat 5: J. Blaylock (Low Elswick) 4 1/2 l beat W. Thompson (Stocksfield) 3l
Heat 6: E. Minniken (Chester-le-St) Scratch beat W.J. Marshall (Durham) Scratch
Heat 7: A. Kell (Lumley) 7l beat J. Snowdon (Newcastle) 2 1/2 l
Heat 8: W. Pick (Chester-le-St) 11l beat Thos. Dixon (New Lambton) 13l
Heat 9: J. Kilpatrick (Chester-le-St) 16l rowed over; John Hawdon (New Delaval) 1l absent
Heat 10: J.G Hall (Chester-le-st) 17l rowed over; W. Softley (Durham) 14l absent
Heat 11: J. Baines (Durham) 3 1/2 l - A bye.
First ties:
Heat 1: J. Baines beat J. Pick
Heat 2: J, Shields beat J.G Hall
Heat 3: E. Reece rowed over
Heat 4: J. Blaylock beat J. Hall
Heat 5: J. Kilpatrick beat E. Minniken
Heat 6: A. Kell - a bye
Second ties:
Heat 1: J. Kilpatrick beat D, Shields
Heat 2: A. Kell beat J. Baines
Heat 3: J. Blaylock beat E. Reece
Third ties:
Heat 1: J. Kilpatrick beat A. Kell
Heat 2: J. Blaylock - a bye
Final Heat:
J. Blaylock (Low Elswick) 1 1/2 lengths beat J. Kilpatrick (Chester-le-St) 16 lengths
The Tynesider closed rapidly on his man, who was, however, four lengths in advance 150 yards from home. Kilpatrick tired rapidly however, and 50 yards from home he got his right hand scull amongst the sedges and Blaylock, who had then overlapped him, shot past, eased up and cleverly won by a length, thus adding a victory to his seconds in the Wareham and the previous Chester-le-Street handicaps rowed this season. Mr. G Nicholson was the referee, Mr. T. Wheatley the Starter and Mr. R. Ainsley the distance judge.