Oliver Wade Hall-Craggs
Jump to navigation
Jump to search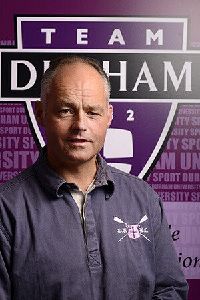 Oliver Wade Hall-Craggs (born 9 January 1966) is a British rower and Olympic sculler. Whilst studying archaeology at Grey College (1985-1988), he competed for Durham University Boat Club under the watchful coaching eye of Eric Halladay, Master of Grey College.

In 1988 Wade was part of the Durham University crew, along with S.Taylor, M.Towers and J.Chaytor, that won the Visitors Cup at Henley Regatta.

He is the former head coach at Durham University Boat Club, a position he held between 2000 -2021 and fully understood the legacy left by his former coach Eric Halladay. In this time, he mainly coached the heavy-weight men. He represented Great Britain in the single scull event at the 1992 Summer Olympics.

In recent years, DUBC has cemented itself as one of the strongest university boat clubs in Great Britain. Under the leadership of Wade Hall-Craggs, DUBC notably won the BUCS Victor Ludorum for ten consecutive years (2004-2013), and has produced a number of athletes that have competed internationally at European and World Championship level.