James Renforth
Jump to navigation
Jump to search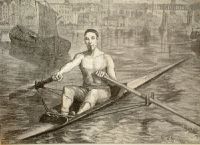 James Renforth (1842 - 1871) was born in the Manors area of Newcastle-upon-Tyne in 1842, and was the third of the great oarsmen that the Tyne produced in the heady days of professional rowing. James was an epileptic, and he died in the arms of his friend and rower Henry Kelley in the boat at a tragically young age of 29 while racing for the Championship of the World in Canada. The town of Renforth is situated on the banks of the Kennebecasis river in honour of this fine rower.



Chronology
(with grateful thanks to Ian Whitehead)
Born 7th April in New Pandon Street, in the Manors area of Newcastle upon Tyne to Jane and James Renforth, who was a Smith.
Family move to the Rabbit Banks/Pipewellgate area of Gateshead.
Joins an East India Company regiment and sails as part of the relieving force for the Indian Mutiny
Smith's striker at NER Engineering Works at Greenesfield, Gateshead; Tyne Port Authority, Howdon; and probably also in other works on both banks of the Tyne.
23rd July. Joined Durham Royal Garrison Artillery at Gateshead.
Swimmer. Won a gold medal for swimming at Northumberland Baths. Walked to Talkin Tarn to take part in a swimming race. Lost.
26th June. Marries Mary Ann Bell at Newcastle Register Office.
29th June. Birth of daughter, Margaret Jane. Living at Dean Court, Newcastle-upon-Tyne.
21st January. Death of daughter, Margaret Jane, from bronchitis. Living at Tuthill Stairs, Newcastle-upon-Tyne.

21st December. Birth of daughter, Ann Elizabeth, in Lying In Hospital, New Bridge Street, Newcastle.
Employed in demolition of Old Tyne Bridge.

Debut against Robinson alias Princey. Won easily. Princey led, but blew up.

Saturday May 19th. Victory over G. Curry of Gateshead in open boats for £20.
Monday 22nd April. Race with Balmbra (or W. Bambrough) of Gateshead, in open boats for £20. Won.

Won heat in an open boat handicap at Talkin Tarn Regatta (Cumbria, nr Carlisle)

August. Beat Edward Boddy at Newcastle Swimming Club competition in the Tyne. Won a medal.

21st September. Beat Robert Boyd for £50 in open boats

5th October. Beat James Boyd in skiffs for £100, High Level to Scotswood Suspension Bridge.

9th December. Should have rowed a skiff race against John Bright for £50 a side. Bright was unable to race because of illness and forfeited the £40 he had down.
28th March. Race with Bright in open boats for £20. Won easily.

23rd June. Birth of daughter, Margaret Jane, at the family home, 6 Church Street, Gateshead.

30th June at Durham Regatta. Won the Brancepeth Castle Plate defeating James Taylor and other local scullers. At same meeting was part of Albion R.C. second crew which was beaten in a race for the Patrons' Plate by the Champion Four.

July. Leeds Regatta. Defeated by James Taylor in a handicap skiff race. Taylor had an allowance of two lengths. At the same regatta, on the 14th July, Renforth won the Aire Stakes, value £25, and a local title of champion.

6th July - Wear Boat Club Regatta. Renforth won the Open Professional Skiff race.

14th July. James present at death of daughter, Margaret Jane, from tabes (emaciation) at 6 Church Street, Gateshead.

4th August. Thames National Regatta. Won £90 in a skiff race in which Kelley, Sadler and Percy also competed. Tyne crews also won the fours and the pairs. Commemorated in the song, "Defeat of the Cocknies".

First public appearance in "champion four" crew, Renforth (bow), M. Scott, A. Thompson, J. Taylor, J. French (cox), at the Chester Regatta where they won the Waterman's Prize of £40 with great ease. Renforth also won the Scullers' Prize of £10 beating James Taylor of Newcastle and Harry Lang of Manchester.

Part of same crew which won the Town Purse of £30 at the Burton-on-Trent Regatta

17th November. Beat Harry Kelley for the championship of the world on the Thames.
Split in champion four-oared crew of which Renforth was a member. It was made up of Taylor, Renforth, Thompson and Scott.

January 6th. Assault charge heard in Newcastle Court after attack on man in spirit bar. Found guilty and fined.

25th January. Taylor and Renforth, in one boat, rowed against Thompson and Scott, in another, from bridge to bridge on the Tyne for £200. Renforth and Taylor won easily.

May 5th. Deserted from Durham RGA Militia.

May 31st. Newcastle Daily Chronicle reported: The Sensation Pair-Oared Race - This evening, a pair-oared race for a gold medal, to be awarded to the professional in the winning boat, is to take place on the Tyne from the High Level Bridge to the Meadows House, between Mr. Gulston, a gentleman amateur, and Mr. James Renforth, the champion on the one part, and Mr. James Wallace, of the Tyne Amateur Rowing Club, and Mr. Jas. Taylor on the other. The steamer "Mystery" has been chartered to accompany the race. The Renforth/Gulston pair lost.

Wednesday June 10th. Won scullers' race at King's Lynn Royal Regatta.

Wednesday July 14th, Hartlepools' Regatta. Lost scullers race to James Boyd of Gateshead. In awkward sea conditions but arousing the suspicions of the crowd.

Renforth and Taylor form a crew to compete at 1869 Thames National Regatta. These two plus Thomas Winship and John Martin.

By early August Renforth is landlord of the Belted Will Inn, Hinde Street, Scotswood Rd.

Thursday August 5th, Chester Regatta. Won Watermen's Sculls (£7) beating James Taylor and Thomas Winship. Next day Renforth's crew won Watermen's Fours (£40).

Friday August 6th, Wear Boat Club Regatta. Renforth and Taylor win pairs (£5) as they please. Renforth wins skiff race (£8) in Adelaide.

Saturday 21st August, Thames Regatta. Above-mentioned four beaten by Surbiton crew. Tyne crew challenge Surbiton crew to race twice more, once on the Thames and once on the Tyne, for £400 each race.

5th and 6th October. Renforth rows against Bright for £100 a side in open boats from High Level Bridge to Meadows House. Bright getting two lengths start in 1 ¾ miles. Foul on first day leading to re-row. Foul again but decision given to Bright. After the race on the 6th Renforth collapses in a fit in the bar of the Star Hotel, Northumberland Street, Newcastle upon Tyne and is taken home in a cab.

Renforth living at Belted Will Inn, Hinde Street, Scotswood Rd.

Tyne four-oar crew win both races against Surbiton crew. November 5th on Thames and November 18th on Tyne.

Two days after the match on the Tyne, November 20th, Renforth and Taylor are beaten in a double scull race for £200 with Kelley and Sadler on the Tyne from bridge to bridge.
February. Moves from Belted Will Inn to take over as landlord of Sir Charles Napier Inn, Queen Street, St. Nicholas' Buildings.

5th July. Wins Brancepeth Plate (scullers race) and Patrons Plate (as part of Champion Four) at Durham Regatta.

Sunday 17th July. Pall bearer at Harry Clasper's funeral.

September. Renforth's crew (Renforth, James Taylor, Thomas Winship, John Martin, with John Adams as spare man) defeat Canadians at Lake Lachine, Canada.
16th January. Renforth and Kelley beat James Taylor and Thomas Winship in a pair-oar race on the Tyne for £400.

Sells Sir Charles Napier Inn.

Thursday 15th June, Tyne Regatta. Renforth and Kelley beaten by James Taylor and Thomas Winship in pairs. Kelley suffering from sciatica and rowing against medical advice. Renforth's crew, Renforth, Kelley, Chambers, Percy, Bright (spare) which was formed to go out to Canada, has to be reorganised because of Kelley's indisposition.

Friday 16th June, Renforth, Bright, Chambers, Percy beat Taylor's crew in fours.

15th July 1871

Cheltenham Chronicle reported: The English Champion Four, which are matched with the St. John (New Brunswick) crew on the 23rd of next month, left Newcastle for America on Wednesday last. About 3,000 people assembled to bid them farewell. James Percy (bow), Robert Chambers (2), Henry Kelly (3) and James Renforth (Stroke) is the present arrangement of the crew, while John Bright accompanies them as spare man. All seemed very well and confident.
23rd August. Death of James Renforth, after collapsing during a race against the Canadians on the Kennebecasis river at St. John, New Brunswick. His dying words reputed to be "What will they say in England?"

Deeth o'Renforth Champion sculler of the world by Rowland Harrison:

Ye cruel Atlantic cable

What's myed ye bring such fearful news?

When Tyneside's hardly yeble

Such sudden grief to bide.

Hoo me heart it beats - iv'ry body greets,

As the whisper runs throo dowley streets,

"We've lost poor Jimmy Renforth,

The Champien o'Tyneside"



26th August 1871
The Illustrated London News reported: " After going a mile, Renforth took a fit, and nearly fell out of the boat. . . . Poor Renforth has just died." Such is a portion of the telegram conveying the melancholy result of the great Anglo-Canadian four-cured race. At the time of writing no particulars have reached England, and we can only give a short summary of the brilliant career of the best sculler that ever sat in a boat. He was born at Gateshead, in 1842 and did not appear in public till the commencement of 1867. Having won ten sculling-matches in succession, and always with plenty in hand, he challenged Harry Kelley for the championship, in November 1868, and defeated him almost as he chose; in fact, so hollow an affair was it that the Thames man did not care to try to recover his lost laurels, nor could Joseph Sadler ever summon up courage to tackle the redoutable Northerner, though in the Thames Regatta of 1559 both he and Kelley were easily beaten by Renforth. The latter then tried to concede John Bright two lengths' start in open boats; but after several fouls the race was given against him. Then came the two great four-oared matches between the Thames and Tyne, in which he was stroke of the latter boat, and secured two easy triumphs. These contests brought about a double sculling-match, in which Kelley and Sadler were opposed to Renforth and Taylor, and this time the Thames men turned the tables. The Anglo-Canadian match of last year must be fresh in the recollection of our readers. and a quarrel which occurred among the Tyne four while they were in America produced a pair-oared match, in January last, in which Renforth and Kelley rowed right away from Taylor and Winship. These are the chief particulars of the great sculler's short career of triumph. His fame has never been dimmed by the slightest scandal, and in all his races he only knew one way — the way to the winning-post.
9th September 1871 - Illustrated London News reported: The body of the late James Renforth arrived at Newcastle on Wednesday last, and was met by several thousand people. The funeral will probably take place on Sunday. No traces of poison were discovered in the stomach, and there can be little doubt that his death arose from natural causes. The misfortunes of Renforth's crew do not seem to have terminated with the death of their leader, for they lost the great four-oared race at Halifax Regatta owing to a most provoking mistake. Chambers had taken Renforth's seat as stroke, and John Bright, the spare man, filled the vacant place as No. 2 ; and this arrangement answered so well that at half distance (the race was six miles) they held a lead of 150 yards. After rounding the turning point, however, they got out of the course, losing at least 200 yards, and enabling Winship's four to go to the front; and, in spite of the most desperate exertions, Chambers's men could never recover their lost ground. The great sculling prize was won pretty easily by Joseph Sadler, Kelley being only third, and it is now clear that the former will be the future sculling champion of England.
10th September 1871. Funeral of Renforth and burial in Gateshead Cemetery. Funeral procession starts from Renforth's house in James Street, Gateshead, which he probably bought after the sale of the Sir Charles Napier Inn earlier in the year. 23rd September 1871
The Sportsman reported: THE RENFORTH MEMORIAL. A meeting of the Renforth Memorial Committee was held on Wednesday night at Mr. C. Hedley's, the Borough Arms, Gateshead. Mr. John Elliott, the chief constable, presiding. A large number of subscription lists were ordered to be sent out to different places, as well as applications for subscriptions to north-country members of Parliament and other influential gentlemen. The following names were added to the committee:— Mr Thomas Allison, secretary, Tyne Amateur Rowing Club; Mr J.L. Browne, secretary,Tynemouth Rowing Club; Lumas Waddom, secretary, Newcastle Amateur Rowing Club; George Armstrong, secretary, Northern Rowing Club; Mr. G. Irving, Albion Rowing Club; the secretaries of the South Shields, St Bede's (Jarrow), and Blaydon Rowing Clubs; Mr. Gulston, Wear Boating Club, Sunderland; Mr. W. Thompson and Mr. M. Holdsworth, Whitby. The subscriptions obtained towards the fund now amount to £166. 9s., £52 having been received from A. W. Scott, secretary of the Halifax Rowing Club, Nova Scotia.


Monday late October. Inauguration of Renforth Memorial.
19th May. Court Case at Newcastle County Court concerning whereabouts of £200 due to Renforth's daughter, Ann Elizabeth now married and called Heler. Case found in favour of daughter and widow Mary Ann, now remarried to William John Renforth (James Renforth's cousin).